Pulley Lagging
Conveyor Belt when slips causes significant damage to the drive pulley and the belt. Such damages are not only expensive to repair, but also time consuming and cause enormous loss due to down time.
Belts need good traction with the drive pulley to prevent slips that can cause major damage.
The life span of a conveyor system primarily depends on its being suitably equipped for the specific application and the standard of servicing and maintenance. The conveyor systems often have to perform in the most difficult conditions. For example rain and sludge, which cause slippage between the conveyor belt and pulleys because of the friction co-efficient between the two.
Forech offers both plain and patterned pulley lagging with specially developed rubber materials and their plain and patterned surfaces have proved to be very effective in water shedding, preventing material build up and controlling belt slippage.All lagging products can be provided with a Bonding Layer for easy installation with cold glues. In addition, Forech also offers a buffed and plain surface to suit your particular needs and budget.
A very special range of ceramic pulley lagging is offered by Forech to provide very high levels of drive and wear resistance for conveyor pulleys that operate in medium to heavy duty applications in wet and muddy conditions..
---
Patterned Sheet Pulley Lagging
Forech offers a comprehensive range of Patterned Sheet Pulley Laggings to suit every conceivable conveyor installation. The Pulley Laggings offered by Forech are produced in different thicknesses, rubber qualities and patterns to ensure selection of the most appropriate type, to suit all application requirements.
The Sheet Pulley Laggings offered by Forech come with CN Bonding Layers for better adhesion levels. The profiled patterns on the top surface, in diamond or square embossing improve belt grip and tracking on conveyors, while reducing belt wear. The Sheet Pulley Lagging is available in various grades of rubber, including FRAS and oil resistant grades.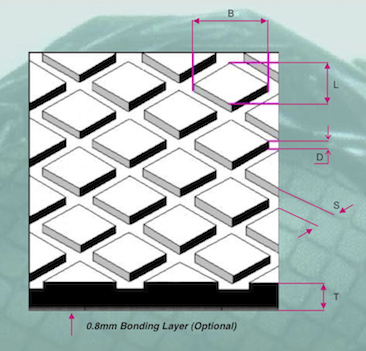 Benefits
Easy to install
Minimum wastage and economically priced
Reduced adhesive use due to Bonding Layer
Shorter lead times
Maintains friction grip under unfavourable drive conditions
Increased friction coefficient between the pulley and the conveyor belt
Extremely helpful while running in wet conditions
Prevents dirt build up in pulleys
Our Range
Profile
Large Diamond
Small Diamond
Mini Diamond
Square Profile
LD
SD
MD
SP
B Diagonal length (mm)
88
47
33
28
L Diagonal length (mm)
51
27
17
28
S Gap between the profiles (mm)
8
6
6
4.5
D Depth of Profile (mm)
6
4
3
3
T Minimum Thickness (mm)
10
8
7
8
Product Width (mm)
1500
2000
1000
1500
1600
2000
1000
1220
1500
1800
2000
1800
Finish on Face
Plain
Plain
Plain
Plain
Finish on the Bonding side
With Bonding Layer (Adhesive/Tie Gum Layer)
Without Bonding Layer - Smooth
Standard Roll Length (m)
10*
10*
10
10*
* Length up to 50 metres can be supplied on request.
Hot Bonding of precured Pulley Lagging
Forech Lagging is also available, and is specially manufactured strips that allows it to be hot bonded onto pulleys. This unique innovation allows for press cured strip lagging to now have the additional advantage of hot bond to the steel pulley. The high physical properties that are achieved from a press-cured sheet, manufactured under heavy tonnage, can now be incorporated in a hot bond application, thereby achieving the greatest possible bond strength.
Range of profiles and dimensions