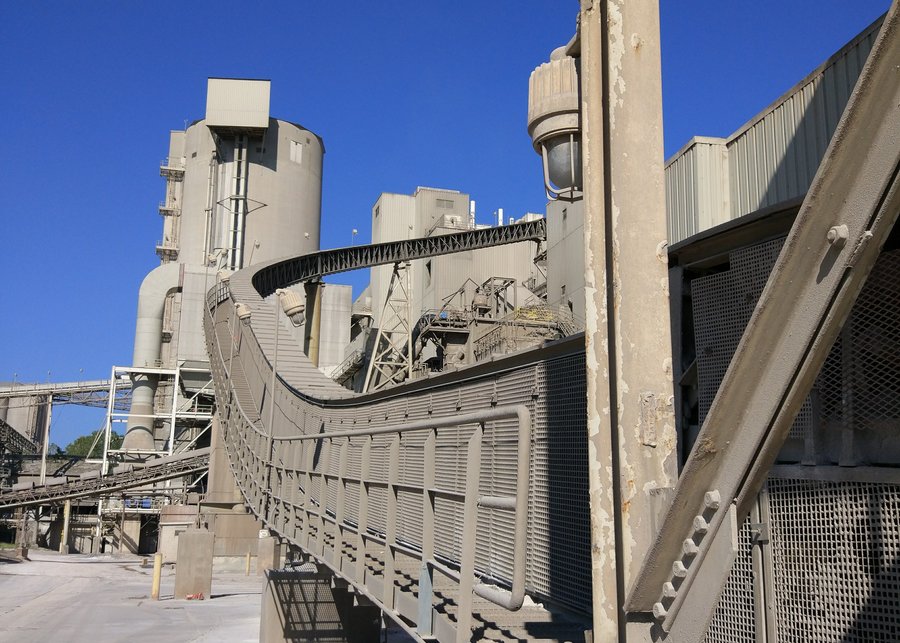 During the last decade, pipe conveyor belts have revolutionised the way bulk materials are handled and transported. After loading, special idler systems fold these belts into a pipe, which encloses the material for the length of the run until the discharge point.
With increased ecological consciousness and compliance requirements, it is becoming more important for the conveyor belt to use as little land as possible, and for the system to be free of spillage. Pipe conveyor belts can take flexible routes in difficult terrain, and the by enclosing the material inside the pipe, spillage is cut down.
Another advantage of pipe conveyor belts is that the conveyor route can make changes in horizontal and vertical angles without the need for a transfer point, which reduces both wastage and maintenance costs.
Forech has been manufacturing pipe conveyor belts with textile and steel cord reinforcement for five years. These belts are specially designed with co-developed fabrics so that the belts achieve the ideal stiffness to fold into a circular pipe. Our products have been used in a variety of industries, for carrying sintered ore, iron ore pellets, limestone or hot clinker, sized coal, lignite, and petroleum coke. Other industries which can benefit from pipe conveyor belts are bauxite mining and refining, chemical handling and processing, and the fertiliser industry.

Applications
Bulk port terminals loading and unloading materials in environmentally sensitive areas.
Transporting coal or ore at mine sites.
Conveying powdered cement or limestone rock in the cement industry.
Transporting coal or disposing of ash in coal-fired power plants.
Benefits
The environment is protected from material spillage.
The material being carried is protected from rain, dust, abnormal temperature fluctuations, and wind.
Lower wastage and spillage leads to an improvement in maintenance and operational costs.
Noise levels are reduced.
The belt can negotiate vertical, horizontal, and 3-dimensional curves, even when there is a sharp turning radius. The number of transfer points is reduced because of this, leading to a lower overall conveyor length.
The structural cost is greatly reduced by eliminating the canopy on top of the conveyor structure.
Material can be conveyed at inclinations upto 35 degrees without carry back.
High conveying speed.
Characteristics
Carcass
Forech has perfected the technology of supplying steel cord reinforced pipe conveyor belts and synthetic fabric reinforced pipe conveyor belts upto a maximum width of 2500mm which translates to an inner diameter of 700mm with adequate overlap.
Various combinations are available depending on conveying path configurations.
Steel Cords are designed, open type and zinc coated.
The fabric can either by Nylon (NN) or Polyester (EP) which is manufactured with a special weave according to the application.
Cover Grades
Forech can manufacture pipe belts with all types of cover grades: General Purpose, Fire Resistant, Heat Resistant, Oil Resistant, Fire Resistant - Oil Resistant.
We test our covers to IS, DIN, AS, SANS, ISO, or Canadian Standards; as the customer requires or specifies.
Forech makes all covers in pipe belts ozone resistant, whether specified by a standard or not.
Forech recommends LRR (Low Rolling Resistance) bottom covers. Low Rolling Resistance covers can be used in both general purpose and fire resistant belts.
Splicing
Forech recommends the standard hot vulcanising technique to splice pipe conveyor belts.
Forech is able to both supply splicing kits and provide splicing technicians and supervisors.
Design and Testing
Before we begin production, we make multiple samples of pipe conveyor belts with different combinations of fabric, rubber formulation, and steel cord to develop a design with the ideal stiffness, flexibility, and fatigue resistance.
After production, the belt is tested to international standards; as well as any additional requirements specified by either Forech or the customer.
Technical collaboration on Rubber Sheets, Conveyor Belt Repair Material & Metal-Rubber Bonding Systems for Lining and Pulley Lagging products.
Range
Available in both Textile and Steel Cord
Width: upto 2500mm
Pipe Diameter : 150mm to 750mm
SELECTION TABLE
| | | | | |
| --- | --- | --- | --- | --- |
| Nominal Pipe Diameter (mm) | Belt Width (mm) | Conveyed quantity (m3/hr) @ 1m/sec at 75% fill factor | Conveyed quantity (m3/hr) @ 1m/sec at 60% fill factor | Maximum Lump Size (mm) |
| 150 | 600 | 45 | 36 | 40 |
| 200 | 700 | 85 | 68 | 60 |
| 210 | 750 | 95 | 75 | 65 |
| 220 | 800 | 100 | 80 | 70 |
| 250 | 1000 | 130 | 104 | 80 |
| 300 | 1100 | 190 | 150 | 90 |
| 350 | 1300 | 260 | 205 | 110 |
| 400 | 1500 | 340 | 270 | 130 |
| 450 | 1600 | 430 | 345 | 140 |
| 500 | 1850 | 530 | 425 | 160 |
| 550 | 2000 | 640 | 510 | 180 |
| 600 | 2200 | 760 | 605 | 200 |
| 650 | 2400 | 895 | 715 | 210 |
| 750 | 2500 | 1190 | 950 | 230 |