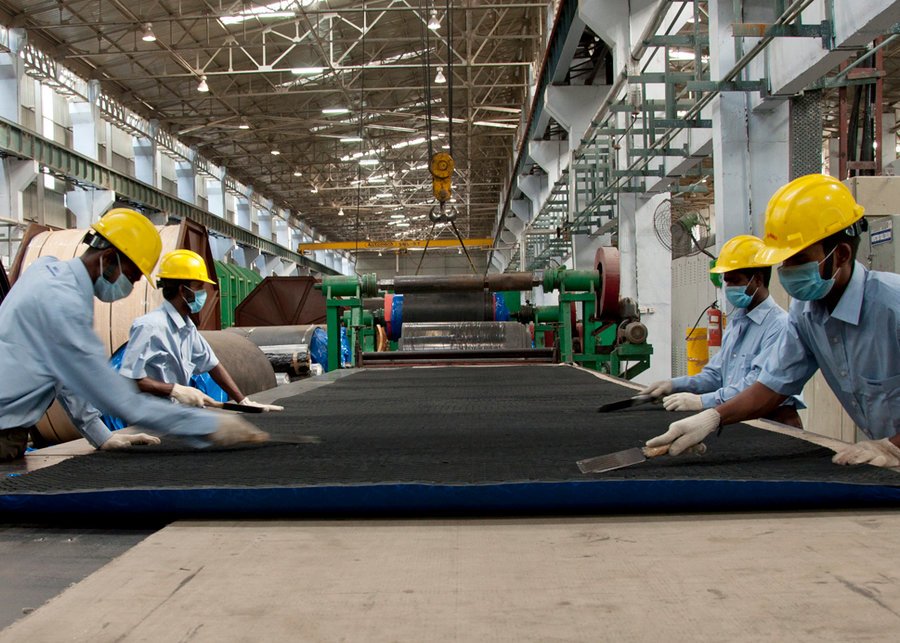 Five distinct processes: Mixing, Calendering/ Sheeting , Laminating, Curing and Finished Product Inspection & Packing
Mixing
Different compound applications require customised compound mixing.
Forech regularly tests a range of raw materials for their suitability to customer needs; customise the mixing procedure and recipe to achieve application requirements. From lab and production trials, the ideal proportion of raw materials, mixing time and steps are calculated.
The automated mixing lines ensure that the actual mixing process does not deviate from the recipe.
Every batch to come out of the mixer is stamped with a batch number; and lab tested before being released for further processing.
Calendering / Sheeting
The compound that we get from our mixing line is in thick slabs of a small width. To get it into the desired width, thickness, and to coat it onto fabric if necessary, we pass it through either a calender or an extruder.

The sheeting lines control and adjust temperatures, speed, and gauge to ensure that the finished sheet or rubberised fabric is uniformly thick and free from bare patches. During every setup, a human supervisor will also double check the width and thickness to make sure that there is no deviation.
Forech is also capable of producing cover rubber in thicknesses up to 8 mm in a single pass, which reduces the risk of blister formation or delamination during operation.
Laminating
For fabric belts, we take individual rolls of rubberised fabric to a building table, and lay them one on top of the other, and apply slight pressure to create the carcass of the fabric belt.

The top cover and bottom cover are also laid on to the fabric carcass in this machine.The building table is also the equipment which we use to assemble very thick rubber covers or rubber lining sheets from thinner sheets taken from the calender. Breakers, sensor loops, or any other additions to the cover are also assembled into the belt at this stage of manufacturing.

For steel cord belts, the laminating happens inline, in a compacting station which lays rubber on the top and bottom of steel cords which are kept under tension.

Moulded items are assembled in the mould itself.
Curing
After assembly, the assembled sheet, conveyor belt, or moulded part is brought to a rotocure or press.

Heat and pressure is applied to ensure that the raw rubber goes through a vulcanisation reaction to take its finished shape.

Forech has specialised presses and moulds based on product, thickness, width, and shape for its different product lines including rubber sheets, profiled rubber lagging, flat conveyor belts, profiled conveyor belts, ceramic lagging and pads, sidewalls and cleats, and idler rings.

On every line, curing time, temperature, and pressure are monitored and controlled to ensure the best possible surface finish and a defect free product.
Inspection & Packing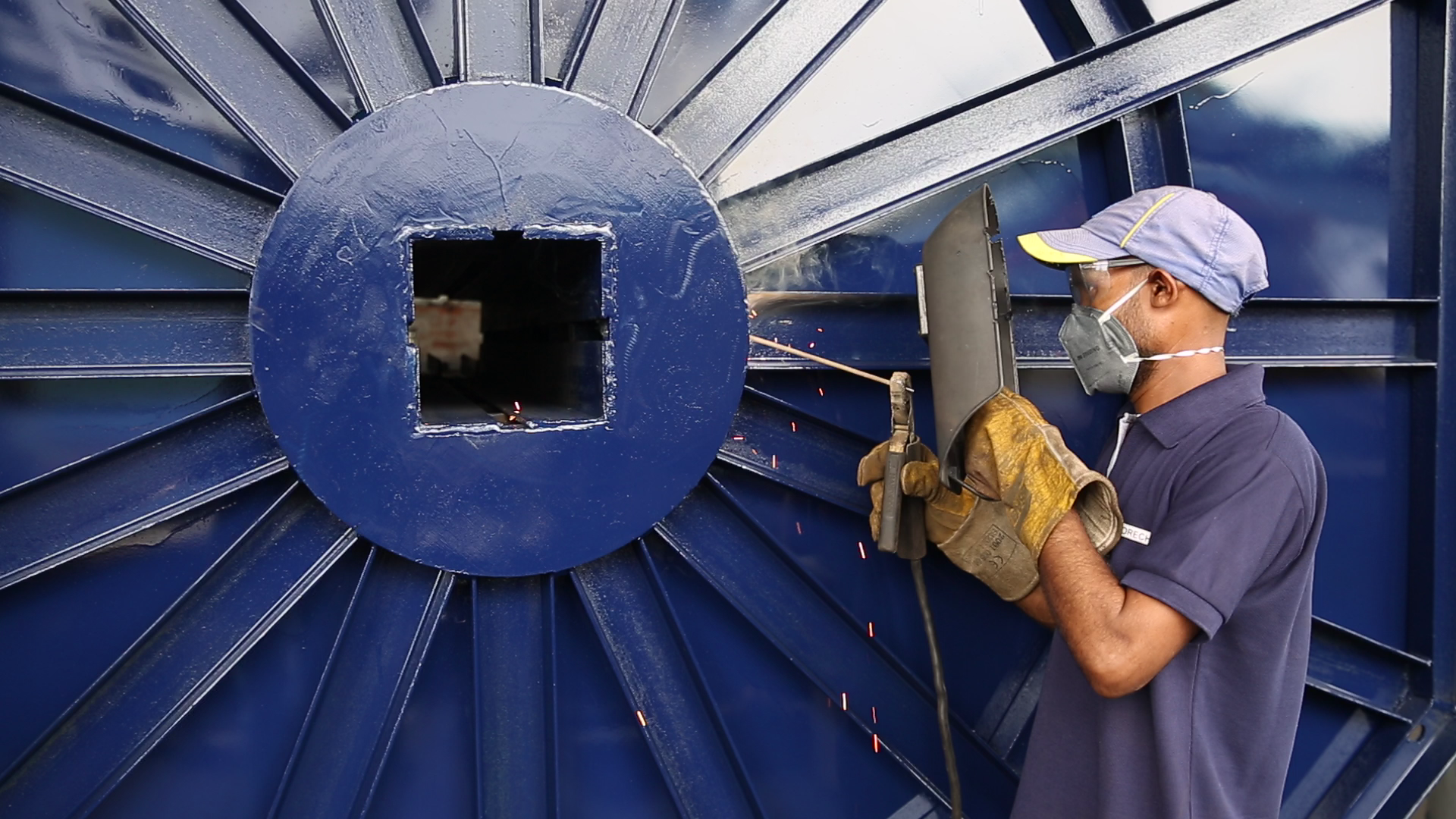 After completing the curing, the finished products are cut and trimmed to remove unwanted rubber spew; and test the finished product in our nationally certified lab.

Forech is able to test for rubber strength and abrasion; full belt strength, fire resistant properties, heat resistant properties, as well as the dimensional integrity; depending on customer and product requirements.

Wherever necessary, Forech can also make customised packing drums, cages, or boxes for the finished product on site, to ensure that your product is protected from damage during transportation; and is as easy as possible to unload.