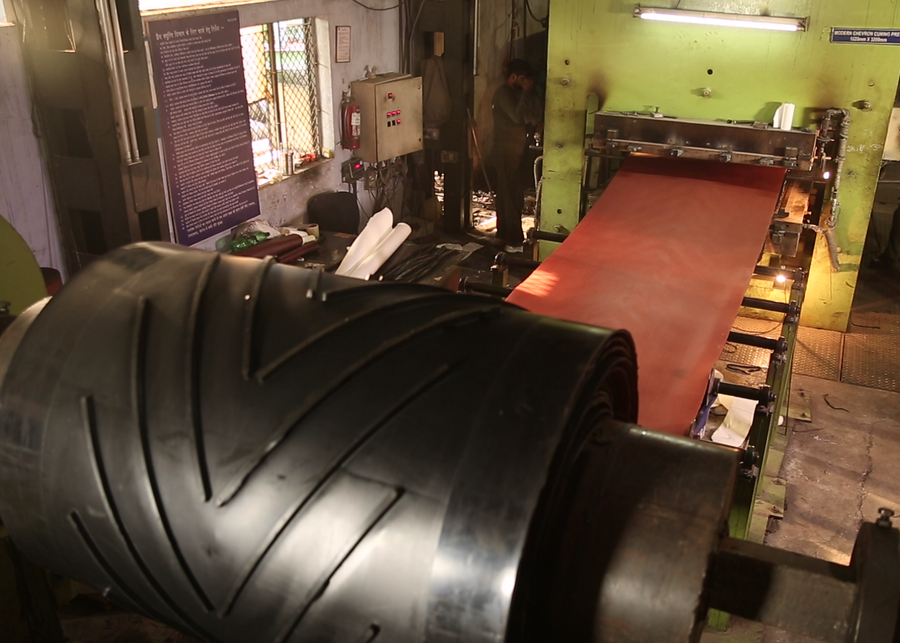 With smooth surface conveyor belts the maximum conveying angle of inclination is approximately 20° depending on the material. Using chevron cleated belts makes steeper angles of inclinations up to 40° possible, which allows for higher lift in lesser space.

Chevron conveyor belts have rubber cleats that are integrally vulcanized with the top cover of the belt. These profiles are made with highly abrasion resistant rubber types and are offered in softer compounds (45 to 50 Shore hardness) as also 60 shore materials. The profiles are shaped in such a manner that there is no need for special idlers and these can be run on conventional conveyors. The pitch between two cleats ensures a smooth ride over return idlers.

Characteristics
Belt Width
Depending upon the profile, chevron belts are available in widths from 600 mm to 1800 mm.
Edges
Chevron Belts are normally supplied with cut edges. However, Belts with moulded edges can also be supplied.
Patterned Conveyor Belt
Wavy-top conveyor belts, herringbones conveyor belts, and a host of other options are available in open ends or built endless. Multi-V constructions with 1/4 inch (6 mm) height are also available.
Special Profile Weigh Conveyor Belt
Forech manufactures special profile weigh feeder belts for use in thermal power plants and cement factories. These are highly caliberated seamless belts with side profiles and centre guides.
Custom Belts
With our experience in mould manufacture and product design, we can design a new chevron profile to meet your needs.
Range
| | | | | | |
| --- | --- | --- | --- | --- | --- |
| Cleat Type | Belt Width (mm) | Cleat Width (mm) | Cleat Height (mm) | Cleat Thickness (mm) | Pitch (mm) |
| | a | b | c | d | e |
| FHC-15-1 | 600-800 | 385 | 15 | 20 | 250 |
| FHC-15-2 | 900-1200 | 750 | 15 | 20 | 250 |
| FG-15-1 | 600-800 | 436 | 15 | 20 | 220 |
| FG-15-2 | 900-1400 | 750 | 15 | 20 | 300 |
| C-15-P600 | 900-1200 | 610 | 15 | 20 | 252 |
| FHY-15 | 700-900 | 575 | 15 | 20 | 338 |
| FHC-25-1 | 600-800 | 450 | 25 | 25 | 250 |
| FHC-25-2 | 600-800 | 550 | 25 | 25 | 250 |
| FHC-25-3 | 900-1200 | 750 | 25 | 25 | 330 |
| FHC-25-4 | 1200-1400 | 915 | 25 | 25 | 250 |
| FHC-25-5 | 1200-1400 | 1065 | 25 | 25 | 250 |
| FHE-25 | 1200-1400 | 750 | 25 | 25 | 250 |
| FHC-32 | 800-1200 | 600 | 32 | 32 | 330 |
| FHC-35 | 650-1400 | 616/865/1100 | 35 | 25 | 330 |
| V-Cleat | 1067/1219/1524 | Full Width | 6 | 6 | 100 |
| EBS | 808/1414 | 100 | 43 | - | Full Length |
| Feeder Belt 838 | 838 | - | - | - | Full Length |
| Feeder Belt 1168 | 1168 | - | - | - | Full Length |
| Feeder Belt 1220 | 1220 | - | 35 | 25 | Full Length |
| Feeder Belt 1270 | 1270 | - | 35 | 25 | Full Length |
| Paper Belt 1070 | 1070 | - | 28 | 20 | Full Length |
| Paper Belt 1270 | 1270 | - | 28 | 20 | Full Length |
| Paper Belt 1470 | 1470 | - | 28 | 20 | Full Length |
| Wavy Top Belt | 500-800 | - | - | - | Full Length |
| Bag Diverter | 200 | - | - | - | Full Length |
| Magnetic Separator Belt | 1200 | - | - | - | Full Length |